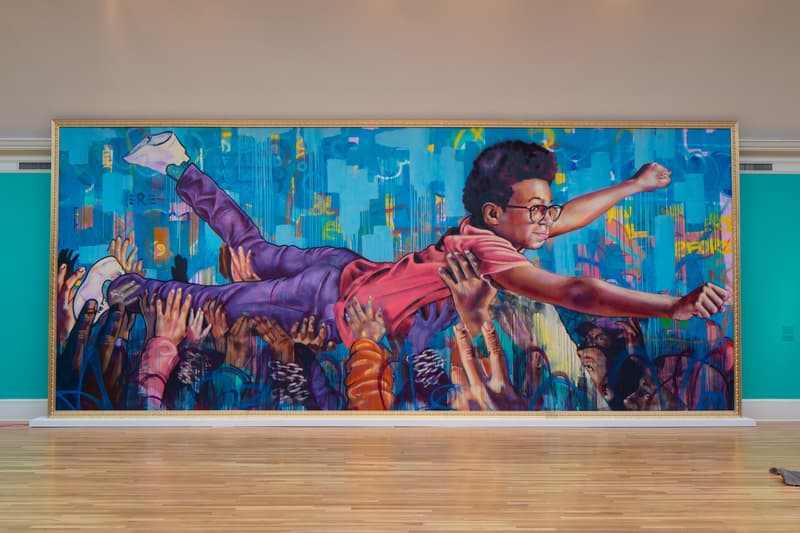 Hailing from the festive streets of New Orleans, Brandon Odums is a visual artist who is hosting his first solo exhibition. Dubbed "NOT Supposed 2-Be Here" at the Newcomb Art Museum, this series of works from Odums that maintains his ongoing message of civil rights, racial dynamics and urban ordeals. The 15-year artistic veteran challenges the normality of what is Museum quality content with this solo presentation, as the works speaks towards art, race, place and accessibility.
Colossal sized paintings propped behind sculptures and mixed media are adorned around every corner of the Louisiana based gallery. The collection of works consist of older pieces meshed in with newer works of Brandon's, which create a sense of "part retrospective and part futurescape". Odums' works question the identity of black power, the idea of Blackness and the position of the artist in the urban community, all while Brandon pays homage to his artistic upbringing. Pieces of his past are displayed throughout the installations such as the experiences of Hurricane Katrina, memories of local legends and even his personal experiences with art.
The exhibition is on view from now until May 23.
Newcomb Art Museum
Woldenberg Art Center #202
Newcomb Cir, New Orleans
LA 70118
Enjoy A Full Look At Brandon Odums' "NOT Supposed 2-Be Here" Exhibition Below!