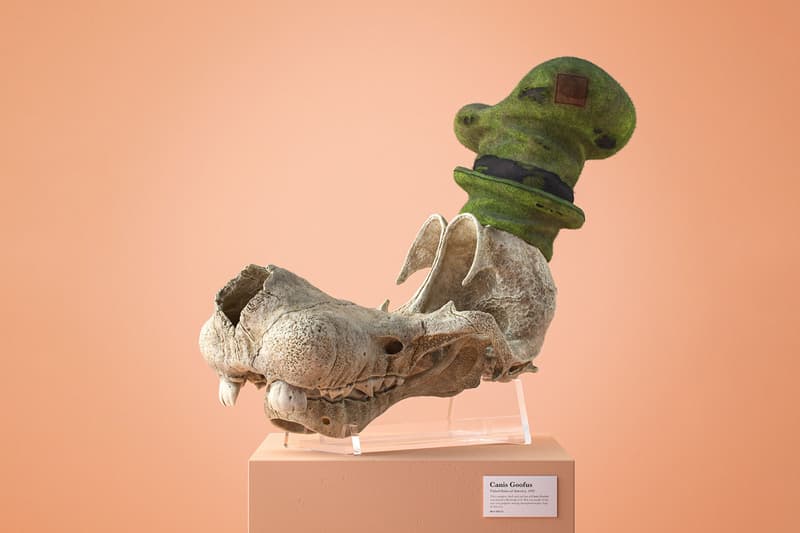 Filip Hodas is a Prague-based 3D illustrator has crafted a new range of skulls inspired by a short-list of childhood coveted cartoon characters prepared for display. The fossil enthusiast meshes his passion for CG in this project. Hodas designs each skull via a 3D program in the silhouette of renown animation names like Minnie Mouse, Goofy, Sponge Bob and more.
The 3D drafted designs are realistic with color pops on the characters accessories while displayed in-front of colorful backgrounds. The detailed accessories are notably placed to make each piece instantly recognizable. he series features a fossilized Goofy, called Canis Goofus, wearing a shabby version of his rumpled green hat, Minnie Mouse, or Mus Minnius, sporting her iconic red polka-dot bow, and Tweety Bird, called Canaria Tweetea, surrounded by yellow feathers. Other characters included in the series are SpongeBob, Popeye, and Scrooge.
Hodas explained in a statement:
The main goal of this series was to get better at sculpting and to experiment with Zbrush to Substance Painter workflow, … For each skull, I tried to adjust and improve the workflow which resulted in quite visible differences between the first (Canis Goofus) and last in the series (Anas Scroogius).
Take A Closer Look At Filip Hodas' Cartoon Fossil Series Below!